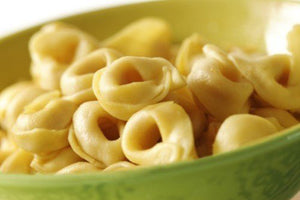 2KG Bag
This delicious cheese tortellini is full of real Italian flavour. The filling combines real ingredients like ricotta Parmesan and Romano cheeses pasteurized milk whole eggs and spices.
The tortellini can be oven baked, microwaved or boiled.
Saute in alfredo sauce, pesto or chunky marinara sauce. Add it to soup for a hearty meal. For a cold pasta salad add chicken. Or serve it as a summer salad with fresh vegetables and spices and a splash of your favourite dressing.
Store in the freezer. Reseal unused tortellini in the original poly bag.