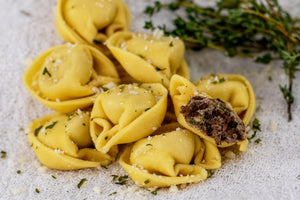 2KG Bag
These hat-shaped tortellini are filled with a blend of cooked beef, ricotta cheese, bread crumbs, carrots, celery, onions and spices.
The tortellini can be oven baked, microwaved or boiled. T
Saute in alfredo sauce, pesto or chunky marinara sauce. Add it to soup for a hearty meal. For a cold pasta salad add chicken. Or serve it as a summer salad with fresh vegetables and spices and a splash of your favourite dressing.
Store in the freezer. Reseal unused tortellini in the original poly bag.