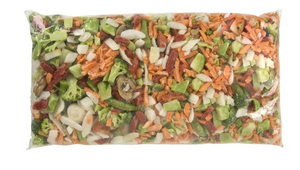 Szechwan blend vegetable mix offers broccoli florets, broccoli stems, julienne carrots, onion strips, red pepper strips, water chestnuts, sugar snap peas and sliced mushrooms for an excellent option for vegetarian entrees.
Product Description
Provide substance and nutrition to stir fry or lo mein with an elegant blend of vegetables.
Frozen fresh to deliver excellent flavour and quality.
Precut and frozen vegetables save on labour and storage costs.
Keep frozen at -18 C. Thaw under refrigeration. Heat thoroughly before use. Do not refreeze thawed product.
Store this item in the freezer section of your foodservice operation.
4.5 lbs BAG