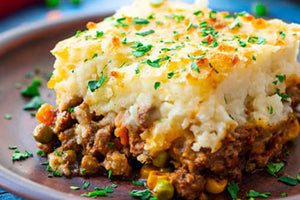 MADE IN HOUSE AT FIRESIDE CLASSIC GRILL
Two pan sizes - select size
Meal Size - 4" x 8"
Family Size - 10" x 12"
These are made in house and frozen to keep them fresh. If you want a not yet frozen pie, tell us in the comments and we'll deliver when a fresh batch is made. 
Traditional style with ground beef and mixed veggies topped with buttery mashed potatoes.
Precooked. Just heat and serve. Not frozen. So it can also be portioned and frozen.
Reheat in oven at 350 degrees Fahrenheit.
Small/Meal Size - 15-20 minutes.

Family Size - 25 - 30 minutes
OUR SHEPHERD'S PIES, LASAGNAS AND MEAT PIES ARE MADE WEEKLY AND SELL OUT FAST. IF YOU WISH TO RESERVE ONE, MESSAGE US AND WE'LL CONTACT YOU AS SOON AS FRESH LASAGNAS ARE READY. YOU CAN ALSO PLACE YOUR ORDER AND EXPECT A FEW DAYS PREPARATION TIME. AS WE GET ORDERS, WE MAKE MORE TO KEEP PACE.
YOU CAN ALSO FOLLOW THE FIRESIDE CLASSIC GRILL FACEBOOK PAGE AND WE WILL UPDATE THE SECOND WE HAVE MORE AVAILABLE.