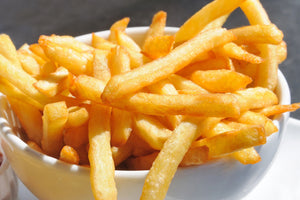 Frozen 2 kg bag.
Premium thick cut potatoes, lightly coated to perfection, providing a crispness like no other. Delicious. Crisp. Stunning hold time.
Preparation & Cooking
Deep fry: Preheat 350°F (177°C) 1/2 basket 680 g (1 1/2 lb) for 2 1/2-3 minutes. Convection Oven: Preheat 425°F (218°C), 907 g (2 lb) 8-12 minutes. Product must be fully cooked for food safety and quality. For best results: cook from frozen state using recommended time and temperature. Deep Fry: Shake basket after 30 seconds. Oven: Spread frozen fries in a single layer on a flat baking sheet or pan. Since appliances vary, these cooking times are approximate. Cook to desired texture. Always cook to a light golden colour. DO NOT OVERCOOK ! NOT RECOMMENDED FOR COOKING IN A MICROWAVE OVEN.