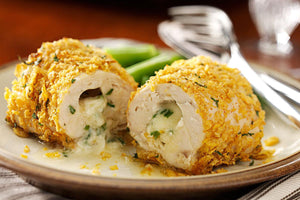 4 oz per piece - four pieces per order
Order is for FOUR BREASTS.
Breaded seasoned chicken breasts stuffed with butter and chives. They are ready to cook and serve!
RAW CHICKEN - DO NOT MICROWAVE. KEEP FROZEN
COOKING INSTRUCTIONS:
Conventional Oven1. Preheat oven to 375°F. 2. Remove frozen entrée from pouch. 3. Place entrées on an aluminum baking  sheet at least 3 inches apart.4. Bake 1–2 entrées for 38–40 minutes.    Bake 3–6 entrées for 40–42 minutes. Ovens and cook times may vary.
For Food Safety cook to a minimum internal temperature of 165˚F measured by a meat thermometre
CAUTION: Filling will be hot and may spallter let stand for 2 minutes before serving.