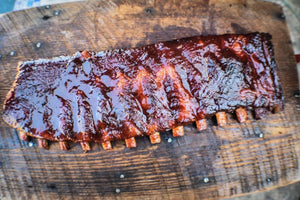 Pack of three ribs. 500+g each.
Fully cooked pork Bbck ribs with Chef Spice. Our unique Kettle cooking process creates consistently tender and flavourful ribs. Lightly seasoned.
Baste with your signature BBQ sauce.
Preparation & Cooking Remove defrosted ribs from bag. Place ribs on grill bone side down. Heat for 12-15 minutes, 75% of time, bone side down. Flip and baste rib with sauce as desired. Remove ribs from grill when sauce is seared to your liking. Plate as full rack or cut into pieces for stacked presentation.