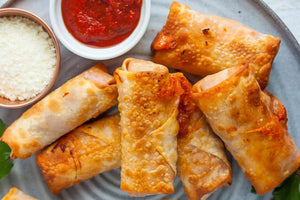 1.25KG or 2.5KG
NOTE...We've switched to a new brand of pizza roll. The new Toppits brand are larger in size and have a little more sauce than our previous McCain brand. We believe you'll enjoy them.
65g per piece. 1.25kg = 20 units. 2.5kg = 40 units.
That amazing pizza taste rolled into a fun finger food. Toppits Pizza Fingers are stuffed with real pepperoni, mozzarella, and delicious marinara sauce, creating an authentic pizza taste. With a handcrafted look and a "home-made" taste. Whether baked or deep fried, these fingers make the perfect appetizer, kids meal, or side dish. Toppits Pizza Fingers are unlike anything out there! ​
Ready-made, these pieces are baked from frozen eliminating the need for skilled labour ​
Cooking Instructions:
Conventional Oven: Bake at 425 °F (220 °C) for 10 to12 minutes.
Deep Fry: Deep Fry at 350 °F (177 °C) for 4 to 4 1/2 minutes. ​