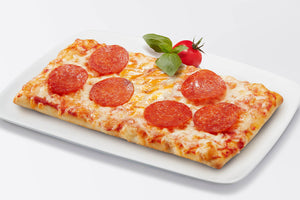 3 pizzas per order.
Each pizza is 191g (8" x 4").
This item replaces our mini pizzas. We simply like them better and think you'll like them better too.
A delicious individual pizza with balanced flavours, a light crust, seasoned tomato sauce, spicy pepperoni and mozzarella cheese  Ideal 8" x 4" size for single serve or kids meals. Can be cooked in a toaster oven. Natural flavours made with fresh dough and toppings. 
PREPARATION: Preheat oven to 425°F (220°C). For crispy crust, place frozen pizza directly on middle oven rack for 10-12 minutes. For softer crust, place frozen pizza on a lightly greased baking sheet for 11 minutes