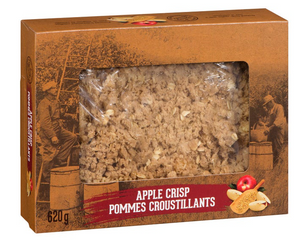 680 Grams/Each Apple Valley  Made in Nova Scotia
Serving Suggestions
Enjoy a piece that is warm out of the oven, with a spoonful of whip cream or your favourite ice-cream.
Basic Preparation
Place frozen crisp on a baking sheet and bake in a preheated oven (400°F, 200°C) or convection oven (370°F, 180°C) for 40-50 minutes until the crisp is golden brown and the apples are to the desired tenderness. Remove the apple crisp from the oven and cool completely before slicing or packaging.
Packaging & Storage

Weight
9.00 lbs / 4.08 kg
Dimensions
6.50 x 9.25 x 13.50 inches
/
16.51 x 23.50 x 34.29 cm
Packaging
Store frozen at or below 0°F / -18°C
Ingredients
apple (ascorbic acid, salt), Sugars (sugar, brown sugar) enriched wheat flour, margarine (canola oil, modified palm and palm kernel oils), oats, Modified tapioca starch, Spices, potassium sorbate.